Here's a bit about the Anime!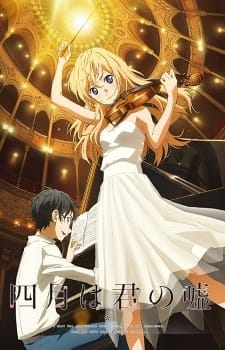 The Anime Your Lie in April, comprised of 22 Episodes, aired from 2014 to 2015. It has a score of 8.68 on MyAnimeList and a MAL rating of PG-13 – Teens 13 or older.
A quick synopsis of the story:
Music accompanies the path of the human metronome, the prodigious pianist Kousei Arima. But after the passing of his mother, Saki Arima, Kousei falls into a downward spiral, rendering him unable to hear the sound of his own piano. Two years later, Kousei still avoids the piano, leaving behind his admirers and rivals, and lives a colorless life alongside his friends Tsubaki Sawabe and Ryouta Watari. However, everything changes when he meets a beautiful violinist, Kaori Miyazono, who stirs up his world and sets him on a journey to face music again. Based on the manga series of the same name, Shigatsu wa Kimi no Uso approaches the story of Kousei's recovery as he discovers that music is more than playing each note perfectly, and a single melody can bring in the fresh spring air of April. [Written by MAL Rewrite]
This information comes courtesy of MyAnimeList and is owned by them. Check out their site for more details!
Click HERE to see where to stream it!
Review Details
Here we show you all the details we captured during our review of this Anime.
The current status of our review is: Complete
Episode
Number
Episode
Title
Nudity/
Fanservice
Gore/
Violence
Language
Disturbing
Imagery
Substance
Use
Version
Watched
Sub
Or
Dub
1
Monotone/Colorful
0
0
1
No
No
Netflix
Sub
2
Friend A
0
0
0
No
No
Netflix
Sub
3
Inside Spring
0
0
0
No
No
Netflix
Sub
4
The Journey
0
0
1
No
No
Netflix
Sub
5
Gray Skies
0
0
0
No
No
Netflix
Sub
6
On the Way Home
0
0
0
No
No
Netflix
Sub
7
The Shadows Whisper
0
0
1
No
No
Netflix
Sub
8
Let It Ring
0
0
0
No
No
Netflix
Sub
9
Resonance
0
1
1
No
No
Netflix
Sub
10
The Scenery I Shared with You
0
1
0
No
No
Netflix
Sub
11
Light of Life
0
0
1
No
No
Netflix
Sub
12
Twinkle Little Star
0
0
0
No
No
Netflix
Sub
13
Love's Sorrow
0
0
0
No
No
Netflix
Sub
14
Footprints
0
0
0
No
No
Netflix
Sub
15
Liar
0
0
0
No
No
Netflix
Sub
16
Two of a Kind
0
0
0
No
No
Netflix
Sub
17
Twilight
0
0
3
No
No
Netflix
Sub
18
Hearts Come Together
0
0
2
No
No
Netflix
Sub
19
Goodbye, Hero
0
0
1
No
No
Netflix
Sub
20
Hand in Hand
0
0
1
No
No
Netflix
Sub
21
Snow
0
0
1
No
No
Netflix
Sub
22
Spring Wind
0
0
1
No
No
Netflix
Sub