Here's a bit about the Anime!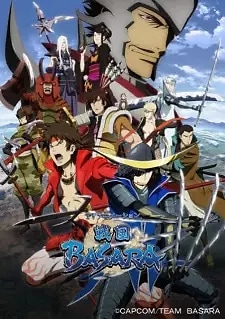 The Anime Sengoku Basara: Samurai Kings, comprised of 12 Episodes, aired in 2009. It has a score of 7.35 on MyAnimeList and a MAL rating of PG-13 – Teens 13 or older.
A quick synopsis of the story:
In the Sengoku period, the struggle for power and unification has brought endless bloodshed to the unstable Japan. Out of all the warring generals, Nobunaga Oda—the "Demon King of Owari"—has established himself as the strongest ruler. Friend or foe, he is determined to crush anyone who stands in his way of creating a tyrannical central government. The only two who dare rebel against Oda are the "One-eyed Dragon of Oshu" Masamune Date, and the distinguished but hot-blooded warrior of the Takeda clan, Yukimura Sanada. Though they share the goal of preventing Oda from unifying the domains, Masamune and Yukimura cannot see eye-to-eye. Equally skilled in combat, mutual admiration for one another causes these two feuding warriors to forge a fierce rivalry, thwarting any attempts to form a united front against the Demon King of Owari. With Oda's forces closing in on their respective territories, Masamune and Yukimura reluctantly learn to put aside their differences and fight together against the threatening usurpator. [Written by MAL Rewrite]
This information comes courtesy of MyAnimeList and is owned by them. Check out their site for more details!
Click HERE to see where to stream it!
Review Details
Here we show you all the details we captured during our review of this Anime.
The current status of our review is: Complete
Episode
Number
Episode
Title
Nudity/
Fanservice
Gore/
Violence
Language
Disturbing
Imagery
Substance
Use
Version
Watched
Sub
Or
Dub
1
Azure and Crimson, A Fateful Encounter!
1
4
0
No
Yes
Funimation
Dub
2
Horrific! Confrontation at Okehazama
1
4
1
No
Yes
Funimation
Dub
A couple of horses are decapitated on screen with less graphic deaths for humans.
3
Vagabond, Maeda Keiji!
1
1
1
No
No
Funimation
Dub
4
Wavering Scarlet Flower - Loyalty that Brings Sorrow!
1
3
0
No
No
Funimation
Dub
5
Brutal! The Righteous Battle of Nagashino and Shitaragahara!
1
3
1
No
No
Funimation
Dub
6
Bonds Torn Asunder - Mortifying Retreat for Masamune!
1
3
1
No
No
Funimation
Dub
7
Marauding Villain! Two Dragons Duel in Earnest Under the Moon!
1
2
0
No
No
Funimation
Dub
8
Great Temple of Carnage! Kojuro's in Dire Straits!
1
3
0
No
No
Funimation
Dub
9
The Tiger of Kai Dies at Midaigawa!
1
3
1
No
No
Funimation
Dub
10
Yukimura Beyond Recovery?! The Date Army's Tearful Disbandment!
1
2
1
No
No
Funimation
Dub
11
Mitsuhide's Betrayal! Honnoji Temple Goes Up in Flames!
1
3
1
No
Yes
Funimation
Dub
12
Azuchi Castle Keep - A Fight to the Death for Tomorrow
1
3
1
No
No
Funimation
Dub