Here's a bit about the Anime!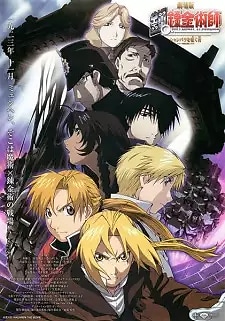 The Anime Fullmetal Alchemist: The Movie – Conqueror of Shamballa aired in 2005. It has a score of 7.53 on MyAnimeList and a MAL rating of R – 17+ (violence & profanity).
A quick synopsis of the story:
In desperation, Edward Elric sacrificed his body and soul to rescue his brother Alphonse, and is now displaced in the heart of Munich, Germany. He struggles to adapt to a world completely foreign to him in the wake of the economic crisis that followed the end of World War I. Isolated and unable to return home with his alchemy skills, Edward continues to research other methods of escaping the prison alongside colleagues who bear striking resemblances to many of the people he left behind. As dissent brews among the German citizenry, its neighbors also feel the unrest of the humiliated nation. Meanwhile, Alphonse continues to investigate Edward's disappearance, delving into the science of alchemy in the hopes of finally reuniting with his older brother. [Written by MAL Rewrite]
This information comes courtesy of MyAnimeList and is owned by them. Check out their site for more details!
Click HERE to see where to stream it!
Review Details
Here we show you all the details we captured during our review of this Anime.
Anime
Nudity/
Fanservice
Gore/
Violence
Language
Disturbing
Imagery
Substance
Use
Version
Watched
Sub
Or
Dub
Fullmetal Alchemist: The Movie - Conqueror of Shamballa
3
5
0
No
Yes
Funimation
Sub
Two homunculus fight to the death. Lots of blood and carnage