Here's a bit about the Anime!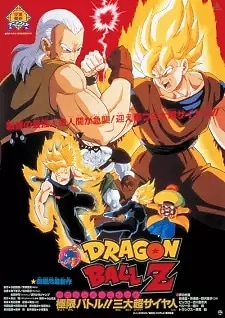 The Anime Dragon Ball Z: Super Android 13! aired in 1992. It has a score of 6.84 on MyAnimeList and a MAL rating of PG-13 – Teens 13 or older.
A quick synopsis of the story:
Dr. Gero's Androids #13, #14, and #15 are awakened by the laboratory computers and immediately head to the mall where Goku is shopping. After Goku, Trunks, and Vegeta defeat #14 and #15, #13 absorbs their inner computers and becomes a super being greater than the original three separately were. Now it is up to Goku to stop him. (Source: ANN)
This information comes courtesy of MyAnimeList and is owned by them. Check out their site for more details!
Click HERE to see where to stream it!
Review Details
Here we show you all the details we captured during our review of this Anime.
Anime
Nudity/
Fanservice
Gore/
Violence
Language
Disturbing
Imagery
Substance
Use
Version
Watched
Sub
Or
Dub
Dragon Ball Z: Super Android 13!
3
5
1
No
No
Funimation
Dub
Several bikini clad women in men's fantasies. Multiple characters maimed and decapitated. A head is stomped into a puddle of blood and oil.