Here's a bit about the Anime!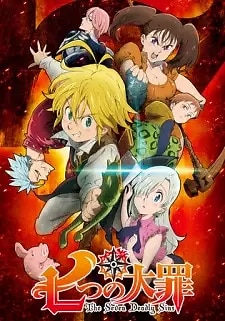 The Anime The Seven Deadly Sins, comprised of 24 Episodes, aired from 2014 to 2015. It has a score of 7.71 on MyAnimeList and a MAL rating of PG-13 – Teens 13 or older.
A quick synopsis of the story:
In a world similar to the European Middle Ages, the feared yet revered Holy Knights of Britannia use immensely powerful magic to protect the region of Britannia and its kingdoms. However, a small subset of the Knights supposedly betrayed their homeland and turned their blades against their comrades in an attempt to overthrow the ruler of Liones. They were defeated by the Holy Knights, but rumors continued to persist that these legendary knights, called the "Seven Deadly Sins," were still alive. Ten years later, the Holy Knights themselves staged a coup d'état, and thus became the new, tyrannical rulers of the Kingdom of Liones. Based on the best-selling manga series of the same name, Nanatsu no Taizai follows the adventures of Elizabeth, the third princess of the Kingdom of Liones, and her search for the Seven Deadly Sins. With their help, she endeavors to not only take back her kingdom from the Holy Knights, but to also seek justice in an unjust world. [Written by MAL Rewrite]
This information comes courtesy of MyAnimeList and is owned by them. Check out their site for more details!
Click HERE to see where to stream it!
Review Details
Here we show you all the details we captured during our review of this Anime.
The current status of our review is: Complete
Episode
Number
Episode
Title
Nudity/
Fanservice
Gore/
Violence
Language
Disturbing
Imagery
Substance
Use
Version
Watched
Sub
Or
Dub
1
The Seven Deadly Sins
4
3
0
No
Yes
Netflix
Sub
Boob Grab
2
Sword of The Holy Knight
4
1
3
No
Yes
Netflix
Sub
Near Nudity
3
The Sin of the Sleeping Forest
3
1
1
No
No
Netflix
Sub
4
A Young Girl's Dream
1
4
3
No
No
Netflix
Sub
Wounds from Torture
5
Even If You Were To Die
1
4
3
No
No
Netflix
Sub
Gore
6
Ballad of the Beginning
1
3
3
No
Yes
Netflix
Sub
7
Touching Reunion
1
3
1
No
Yes
Netflix
Sub
8
Dreadful Pursuer
2
5
1
No
No
Netflix
Sub
Holes in people, hands chopped off
9
Dark Pulse
4
4
1
No
Yes
Netflix
Sub
Boob Grab, bodies exploding
10
Byzel Fight Festival
4
1
1
No
Yes
Netflix
Sub
Near Nudity
11
Sentiment of Many Years
3
4
0
No
No
Netflix
Sub
Body broken several times
12
Terrifying Cannon
3
3
0
No
No
Netflix
Sub
13
Disciple of Destruction
2
3
3
No
No
Netflix
Sub
14
A Person Who Reads
3
3
0
No
No
Netflix
Sub
15
Unholy Knight
4
5
0
No
No
Netflix
Sub
Heart torn out
16
Incited Legends
4
3
3
No
Yes
Netflix
Sub
Boob Grab
17
First Casualty
2
3
1
No
No
Netflix
Sub
18
Even If I Have To Give Up My Life For It
0
4
0
No
No
Netflix
Sub
19
The Fairy King Who Waited In Vain
0
3
0
No
No
Netflix
Sub
20
Courage Charm
2
5
0
No
No
Netflix
Sub
arm chopped off
21
Imminent Threat
3
5
0
No
No
Netflix
Sub
arm chopped off
22
What I Can Do For You
5
5
1
No
No
Netflix
Sub
Battle Carnage, woman naked without detail
23
Descent Into Despair
1
5
3
No
No
Netflix
Sub
Heads torn off
24
Heroes
3
3
3
No
No
Netflix
Sub