Here's a bit about the Anime!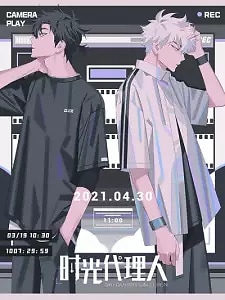 The Anime Shiguang Dailiren Fan Wai Pian: Biwu Zhaoqin aired in 2021. It has a score of 7.79 on MyAnimeList and a MAL rating of PG-13 – Teens 13 or older.
A quick synopsis of the story:
At the Time Photo Studio, partners Lu Guang and Cheng Xiaoshi accept jobs of a peculiar nature. With the aid of their complementary abilities, they are able to leap into photographs—thereby entering the past. One such case involves Liu Siwen, whose only wish is to marry his one true love, Ou Yang. However, her martial arts master father is apprehensive of a suitor who is an outsider and refuses to give his permission unless Liu Siwen defeats him in an honest duel. After years of trying and failing miserably because of his less-than-impressive skills, Liu Siwen finds himself seeking the help of Lu Guang and Cheng Xiaoshi. The two hatch a plan to outwit Ou Yang's father, but what seems simple in theory is rarely as easy to execute in reality… [Written by MAL Rewrite]
This information comes courtesy of MyAnimeList and is owned by them. Check out their site for more details!
Click HERE to see where to stream it!
Review Details
Here we show you all the details we captured during our review of this Anime.
Anime
Nudity/
Fanservice
Gore/
Violence
Language
Disturbing
Imagery
Substance
Use
Version
Watched
Sub
Or
Dub
Shiguang Dailiren Fan Wai Pian: Biwu Zhaoqin
0
1
0
No
No
Funimation
Sub