Here's a bit about the Anime!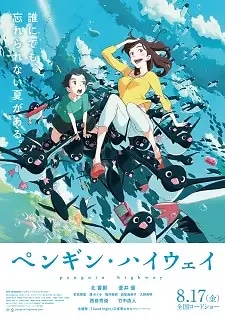 The Anime Penguin Highway aired in 2018. It has a score of 7.59 on MyAnimeList and a MAL rating of PG – Children.
A quick synopsis of the story:
For a child, Aoyama has knowledge comparable to an adult. As such, he is often teased by his classmates. He also has a crush on the friendly woman he recently met at a dental office. One morning, penguins start mysteriously appearing around his neighborhood. Nobody knows where they came from and how they managed to get there. Aoyama is determined to find out more, and he joins his new crush in researching the penguins. As time passes, they discover a levitating sphere which they nickname "The Sea." Whatever goes into The Sea does not come back out, and the only things that can destroy it are the penguins. However, something horrifying is created when the penguins do… Penguin Highway follows Aoyama and the woman's research on the mysterious penguins' origin, as well as the many difficulties Aoyama faces throughout his investigation. [Written by MAL Rewrite]
This information comes courtesy of MyAnimeList and is owned by them. Check out their site for more details!
Click HERE to see where to stream it!
Review Details
Here we show you all the details we captured during our review of this Anime.
Anime
Nudity/
Fanservice
Gore/
Violence
Language
Disturbing
Imagery
Substance
Use
Version
Watched
Sub
Or
Dub
Penguin Highway
2
1
3
No
No
Shout Factory
Dub
A boy keeps a journal of research on breasts. A boy comments on how when he's stressed he thinks about breasts. A women tells a boy not to look at her breasts. Some lingering shots of women's boobs. A boy comments how a women's breasts make him feel different than his moms do even though they are essentially the same. A boys swimming suit is stolen and we see his butt and side as he confronts the thief. Peoples crochet are grabbed out of self defense to get away from people attacking them. Some kids bullying each other physically and mentally.