Here's a bit about the Anime!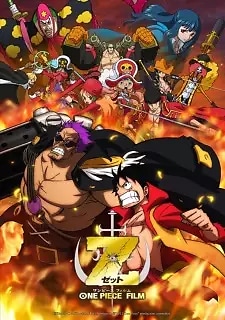 The Anime One Piece Film Z aired in 2012. It has a score of 8.15 on MyAnimeList and a MAL rating of PG-13 – Teens 13 or older.
A quick synopsis of the story:
The Straw Hat Pirates enter the rough seas of the New World in search of the hidden treasures of the Pirate King, Gol D. Roger-One Piece. On their voyage, the pirates come across a terrifying, powerful man, former Marine Admiral Z. Z is accused of having stolen the "Dyna Stones", weapons believed to have the power to shake up the New World. The Marine Headquarters believes Z is about to use it to end the pirate era, and with it, the lives of many innocent people. In fear of such a phenomenal event, marines start to take action against the former admiral. Even if it means stumbling upon marines and the navy, the Straw Hat Pirates decided to chase after Z and stop him from causing havoc. As they continue to embark on their ventures, the pirates bump into new and familiar acquaintances.
This information comes courtesy of MyAnimeList and is owned by them. Check out their site for more details!
Click HERE to see where to stream it!
Review Details
Here we show you all the details we captured during our review of this Anime.
Anime
Nudity/
Fanservice
Gore/
Violence
Language
Disturbing
Imagery
Substance
Use
Version
Watched
Sub
Or
Dub
One Piece Film Z
3
1
3
No
Yes
Toei
Sub