Here's a bit about the Anime!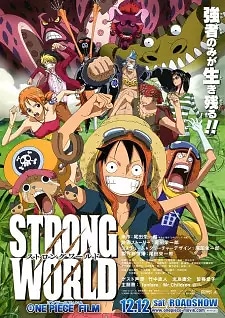 The Anime One Piece Film: Strong World aired in 2009. It has a score of 8.11 on MyAnimeList and a MAL rating of PG-13 – Teens 13 or older.
A quick synopsis of the story:
Upon hearing news that islands in East Blue are being destroyed, Monkey D. Luffy and his crew go to investigate. On their way, however, an outlandish pirate ship appears out of the sky, helmed by the infamous pirate Shiki "the Golden Lion"—a man who ate the Float-Float Fruit and the first ever prisoner to escape from Impel Down. In his quest to defeat the World Government, Shiki kidnaps Nami to be his own navigator and sends the rest of the Straw Hat Pirates to his floating islands as hostages, leaving her in a dilemma. Separated in a land under Shiki's absolute control, Luffy and his crew must survive the mystifying terrain in order to bring back their navigator and friend. [Written by MAL Rewrite]
This information comes courtesy of MyAnimeList and is owned by them. Check out their site for more details!
Click HERE to see where to stream it!
Review Details
Here we show you all the details we captured during our review of this Anime.
Anime
Nudity/
Fanservice
Gore/
Violence
Language
Disturbing
Imagery
Substance
Use
Version
Watched
Sub
Or
Dub
One Piece Film: Strong World
2
1
3
No
No
Toei
Sub