Here's a bit about the Anime!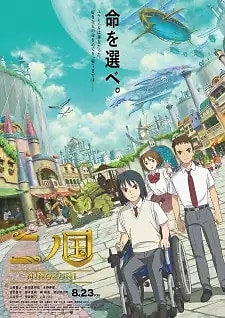 The Anime Ni no Kuni aired in 2019. It has a score of 6.43 on MyAnimeList and a MAL rating of PG-13 – Teens 13 or older.
A quick synopsis of the story:
Best friends Yuu, Haru, and Kotona enjoy a tranquil high school life together. One day, however, a suspicious man pursues and stabs Kotona—a catastrophe that Yuu and Haru fail to prevent. While hastily carrying the girl to the hospital, the two boys are nearly hit by a truck but miraculously remain unharmed. Instead, they find themselves in a fairy-tale-like kingdom with an exotic diversity of people and wonderful creatures. To their surprise, the boys discover that Yuu, who has been confined to a wheelchair since childhood, can now walk! Yet they have no time to ponder the puzzling situation, as their friend is gone. Setting off to find Kotona, Yuu and Haru stop at a local pub to inquire about her. But upon inspecting a picture of Asha, the kingdom's princess, the two have a shocking revelation. Narrating an extraordinary adventure in a magical world, Ni no Kuni demonstrates the special connection between two separate yet parallel worlds and its manifestation of the bonds between individuals. [Written by MAL Rewrite]
This information comes courtesy of MyAnimeList and is owned by them. Check out their site for more details!
Click HERE to see where to stream it!
Review Details
Here we show you all the details we captured during our review of this Anime.
Anime
Nudity/
Fanservice
Gore/
Violence
Language
Disturbing
Imagery
Substance
Use
Version
Watched
Sub
Or
Dub
Ni no Kuni
1
3
1
No
No
Netflix
Sub
Girl Stabbed, Monster Stabbed repeatedly