Here's a bit about the Anime!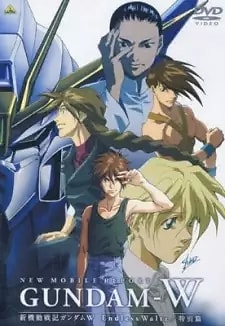 The Anime Mobile Suit Gundam Wing: Endless Waltz aired in 1998. It has a score of 7.79 on MyAnimeList and a MAL rating of PG-13 – Teens 13 or older.
A quick synopsis of the story:
It is A.C. 196—one year after the conflict between Earth and its nearby space colonies ended with the formation of the Earth Sphere Unified Nation. As mankind enters a new era of unity and prosperity, four of the five Gundam pilots decide to follow in society's footsteps and disarm by launching their mobile suits into the sun. However, their plan is unexpectedly suspended when a rebellion erupts with the emergence of Mariemaia Khushrenada—who claims to be the child of fallen dictator Treize and desires to conquer the world in his stead. Deciding that they are the last line of defense for the Earth Sphere, Heero Yuy, Trowa Barton, Duo Maxwell, and Quatre Raberba Winner scramble to retrieve their Gundams and fight to protect the peace the people of the colonies have pursued for so long. Despite their unwavering resolve to complete one final mission, the battle will be challenging: the pilots' former ally Wufei Chang has pledged his allegiance to Mariemaia's cause instead. [Written by MAL Rewrite]
This information comes courtesy of MyAnimeList and is owned by them. Check out their site for more details!
Click HERE to see where to stream it!
Review Details
Here we show you all the details we captured during our review of this Anime.
Anime
Nudity/
Fanservice
Gore/
Violence
Language
Disturbing
Imagery
Substance
Use
Version
Watched
Sub
Or
Dub
Mobile Suit Gundam Wing: Endless Waltz
0
4
1
No
No
Bandai
Dub
*Spoiler* A child is shot and shown bleeding out. A man is shot in the head with blood shooting out. A building blew up and a dog died in the explosion old yeller sad.