Here's a bit about the Anime!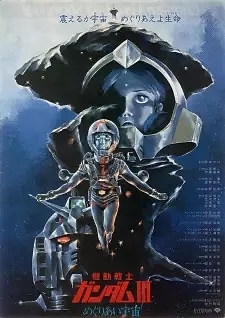 The Anime Mobile Suit Gundam III: Encounters in Space aired in 1982. It has a score of 7.75 on MyAnimeList and a MAL rating of PG-13 – Teens 13 or older.
A quick synopsis of the story:
The One Year War comes to a close, as the Zeon forces now retreat back into space. Amuro learns much more of his Newtype abilities and tries to use them the best way he can. He's pushed to his limit as he encounters the infamous Char Aznable once again. He also falls in love with a mysterious woman named Lalah Sune, who knows the full potential of the Newtype abilities. The greatest battle is about to begin, as many loved ones fall to the power of war. Can the Earth Federation defeat the Principality of Zeon? Or will they fail? Can Char prove that he's the better Newtype than Amuro? They all will be answered now… (Source: Otakufreakmk2)
This information comes courtesy of MyAnimeList and is owned by them. Check out their site for more details!
Click HERE to see where to stream it!
Review Details
Here we show you all the details we captured during our review of this Anime.
Anime
Nudity/
Fanservice
Gore/
Violence
Language
Disturbing
Imagery
Substance
Use
Version
Watched
Sub
Or
Dub
Mobile Suit Gundam III: Encounters in Space
5
5
3
No
No
Funimation
Sub
A woman gets out of the bath and her breasts are seen. Lots of death and mild blood. One character is shot in the head another gets their head shot off with a bazooka.