Here's a bit about the Anime!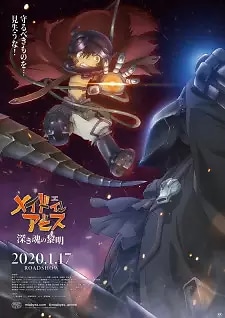 The Anime Made in Abyss Movie 3: Fukaki Tamashii no Reimei aired in 2020. It has a score of 8.66 on MyAnimeList and a MAL rating of R – 17+ (violence & profanity).
A quick synopsis of the story:
Continuing their perilous descent down the Abyss, Riko, Regu, and newfound friend Nanachi reach the Abyss' fifth layer, The Sea of Corpses. Upon arriving at the research station known as Idofront, the main trio encounter the mysterious Prushka, the alleged daughter of Bondrewd, who leads them to the White Whistle responsible for Nanachi's dark past. Despite the welcoming appearances of Idofront's residents, Nanachi warns the young adventurers that things are not always what they seem. With the only route to the sixth layer shrouded in mystery and Bonedrewd's schemes awaiting them, what sacrifices must be made in order to continue the journey down to the bottom of the Abyss? [Written by MAL Rewrite]
This information comes courtesy of MyAnimeList and is owned by them. Check out their site for more details!
Click HERE to see where to stream it!
Review Details
Here we show you all the details we captured during our review of this Anime.
Anime
Nudity/
Fanservice
Gore/
Violence
Language
Disturbing
Imagery
Substance
Use
Version
Watched
Sub
Or
Dub
Made in Abyss Movie 3: Fukaki Tamashii no Reimei
5
5
3
Yes
No
Blue-Ray
Dub
Naked children and visible breast with nipple. Children tortured and dismembered . Discussions of what a Levi's is and one girl draws one to explain it to another. Erect penis shape seen while character wearing pants.