Here's a bit about the Anime!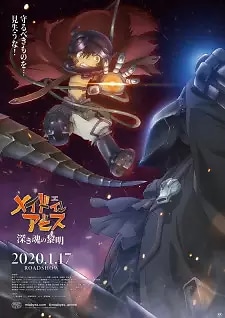 The Anime Made in Abyss Movie 3: Fukaki Tamashii no Reimei aired in 2020. It has a score of 8.62 on MyAnimeList and a MAL rating of R – 17+ (violence & profanity).
A quick synopsis of the story:
After bonding over a tragic loss, the long-suffering Nanachi joins Riko and Reg on their journey into the depths of the Abyss. Awaiting the children is the Sea of Corpses—the Abyss's fifth layer, and the deepest level from which a traveler can return without losing their human form.
The masked sadist Bondrewd stands between the children and the rest of their adventure. Bondrewd's horrific laboratory serves as a final checkpoint for those wishing to traverse deeper into the Abyss, and the sociopathic scientist has no desire to allow Riko's party to pass through at no cost. Deeply scarred by Bondrewd's impact on their childhood, Nanachi is engulfed in turmoil over his resurgence in their life.
Bondrewd's only apparent weakness is Prushka, a brash child who claims to be his daughter. Riko, Reg, and Nanachi befriend Prushka and work with the girl to overcome her father's machinations and breach the Abyss's sixth layer.
[Written by MAL Rewrite]
This information comes courtesy of MyAnimeList and is owned by them. Check out their site for more details!
Click HERE to see where to stream it!
Review Details
Here we show you all the details we captured during our review of this Anime.
Anime
Nudity/
Fanservice
Gore/
Violence
Language
Disturbing
Imagery
Substance
Use
Version
Watched
Sub
Or
Dub
Made in Abyss Movie 3: Fukaki Tamashii no Reimei
5
5
3
Yes
No
Blue-Ray
Dub
Naked children and visible breast with nipple. Children tortured and dismembered . Discussions of what a Levi's is and one girl draws one to explain it to another. Erect penis shape seen while character wearing pants.