Here's a bit about the Anime!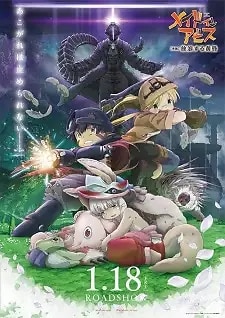 The Anime Made in Abyss Movie 2: Hourou Suru Tasogare aired in 2019. It has a score of 8.36 on MyAnimeList and a MAL rating of R – 17+ (violence & profanity).
A quick synopsis of the story:
The movie is a compilation of episodes 9-13 of the 2017 television series. Riko and Reg descend to the third layer where Riko has her first experience of the Curse. They descend to the fourth layer where Riko's arm is injured by an Orbed Piercer and Reg tries to save her. Nanachi comes to their aid and saves Riko's poisoned arm. In return Nanachi asks Reg to kill her immortal companion Mitty. Nanachi then joins Riko and Reg in their quest to reach the bottom of the Abyss. (Source: Wikipedia)
This information comes courtesy of MyAnimeList and is owned by them. Check out their site for more details!
Click HERE to see where to stream it!
Review Details
Here we show you all the details we captured during our review of this Anime.
Anime
Nudity/
Fanservice
Gore/
Violence
Language
Disturbing
Imagery
Substance
Use
Version
Watched
Sub
Or
Dub
Made in Abyss Movie 2: Hourou Suru Tasogare
3
4
3
Yes
No
Blue-Ray
Dub
Some naked children. A girl is injured and bleeds profusely. Children tortured. Discussions of a guys erect penis.