Here's a bit about the Anime!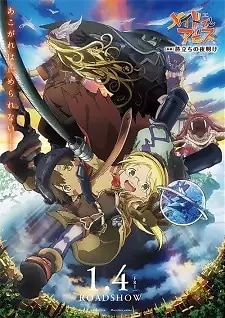 The Anime Made in Abyss Movie 1: Tabidachi no Yoake aired in 2019. It has a score of 8.14 on MyAnimeList and a MAL rating of R – 17+ (violence & profanity).
A quick synopsis of the story:
The movie is a compilation of episodes 1-8 of the 2017 television series with new scenes added for the introduction. It covers the period from when Riko descends into the Abyss with her robot companion Reg, reaching the second layer where they meet the White Whistle Ozen who reveals information about Riko's mother. (Source: Wikipedia)
This information comes courtesy of MyAnimeList and is owned by them. Check out their site for more details!
Click HERE to see where to stream it!
Review Details
Here we show you all the details we captured during our review of this Anime.
Anime
Nudity/
Fanservice
Gore/
Violence
Language
Disturbing
Imagery
Substance
Use
Version
Watched
Sub
Or
Dub
Made in Abyss Movie 1: Tabidachi no Yoake
3
2
3
Yes
Yes
Blue-Ray
Dub
Some naked children are seen and discusson about a characters penis happens multiple times. A women beats and nearly kills some children to "test" them.