Here's a bit about the Anime!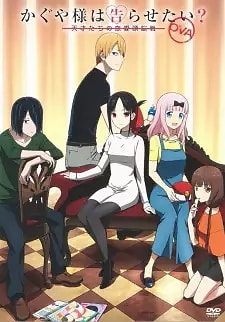 The Anime Kaguya-sama wa Kokurasetai: Tensai-tachi no Renai Zunousen OVA aired in 2021. It has a score of 7.56 on MyAnimeList and a MAL rating of PG-13 – Teens 13 or older.
A quick synopsis of the story:
What do Shuchiin Academy's model students do outside of their student council duties? After a visit to the swimming pool, Kaguya Shinomiya and Chika Fujiwara take to the showers to wash themselves off. When Chika accidentally drops a bar of soap, the two find themselves in a rather slippery mishap. Meanwhile, Miyuki Shirogane and Yuu Ishigami examine a discarded pornographic magazine—its content bearing an uncanny resemblance to the other student council members. Later on, an intense fried rice cook-off commences as Chika and Miko Iino seek to crown a master chef amongst the council. These eccentric activities reveal a side of the student council that has never been seen before!
This information comes courtesy of MyAnimeList and is owned by them. Check out their site for more details!
Click HERE to see where to stream it!
Review Details
Here we show you all the details we captured during our review of this Anime.
Anime
Nudity/
Fanservice
Gore/
Violence
Language
Disturbing
Imagery
Substance
Use
Version
Watched
Sub
Or
Dub
Kaguya-sama wa Kokurasetai: Tensai-tachi no Renai Zunousen OVA
5
0
5
No
No
Unknown
Sub
The first 1/2 of the show is excessive fanservice that repeatedly barely skirts the line of Pornography. The back 1/2 has no issues.