Here's a bit about the Anime!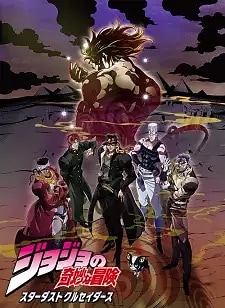 The Anime JoJo's Bizarre Adventure: Stardust Crusaders – Battle in Egypt, comprised of 24 Episodes, aired in 2015. It has a score of 8.44 on MyAnimeList and a MAL rating of R – 17+ (violence & profanity).
A quick synopsis of the story:
Joutarou Kuujou and his allies have finally made it to Egypt, where the immortal Dio awaits. Upon their arrival, the group gains a new comrade: Iggy, a mutt who wields the Stand "The Fool." It's not all good news however, as standing in their path is a new group of Stand users who serve Dio, each with a Stand representative of an ancient Egyptian god. As their final battle approaches, it is a race against time to break Joutarou's mother free from her curse and end Dio's reign of terror over the Joestar family once and for all. [Written by MAL Rewrite]
This information comes courtesy of MyAnimeList and is owned by them. Check out their site for more details!
Click HERE to see where to stream it!
Review Details
Here we show you all the details we captured during our review of this Anime.
The current status of our review is: Complete
Episode
Number
Episode
Title
Nudity/
Fanservice
Gore/
Violence
Language
Disturbing
Imagery
Substance
Use
Version
Watched
Sub
Or
Dub
1
Iggy the Fool and Geb's N'Doul, Part 1
0
5
3
No
No
Blue-Ray
Dub
2
Iggy the Fool and Geb's N'Doul, Part 2
0
3
3
No
No
Blue-Ray
Dub
3
Khnum's Zenyatta and Thoth's Mondatta
0
3
1
No
Yes
Blue-Ray
Dub
4
Anubis, Part 1
0
5
3
No
No
Blue-Ray
Dub
5
Anubis, Part 2
1
3
1
No
No
Blue-Ray
Dub
6
Bastet's Mariah, Part 1
1
3
3
No
Yes
Blue-Ray
Dub
7
Bastet's Mariah, Part 2
3
3
3
No
Yes
Blue-Ray
Dub
A woman's breasts appear to expand with large nipples but it turns out to be a ruse. A pair of men accidentally get stuck in a sexually suggestive pose. Women seen on toilets.
8
Set's Alessi, Part 1
4
1
3
No
No
Blue-Ray
Dub
A naked male child is seen from the front. A woman strips to underwear to wash a small child. A child has his face pushed into a woman's breasts while bathing so she can clean them and he feels her breasts.
9
Set's Alessi, Part 2
4
3
3
Yes
No
Blue-Ray
Dub
Naked male child front shown. An adult man tries to drown a small child.
10
D'Arby the Gambler, Part 1
0
0
1
No
Yes
Blue-Ray
Dub
11
D'Arby the Gambler, Part 2
0
1
1
No
Yes
Blue-Ray
Dub
12
Hol Horse and Mondatta, Part 1
3
3
1
No
Yes
Blue-Ray
Dub
a child reads a stylized comic book that contains visible breasts
13
Hol Horse and Mondatta, Part 2
0
1
1
No
No
Blue-Ray
Dub
14
The Guardian of Hell, Pet Shop, Part 1
0
4
3
No
Yes
Blue-Ray
Dub
15
The Guardian of Hell, Pet Shop, Part 2
0
3
3
No
No
Blue-Ray
Dub
16
D'Arby the Player, Part 1
0
1
3
No
No
Blue-Ray
Dub
17
D'Arby the Player, Part 2
0
0
3
No
No
Blue-Ray
Dub
18
The Miasma of the Void, Cool Ice, Part 1
0
5
3
No
No
Blue-Ray
Dub
19
The Miasma of the Void, Cool Ice, Part 2
0
5
3
No
No
Blue-Ray
Dub
20
The Miasma of the Void, Cool Ice, Part 3
4
5
3
No
No
Blue-Ray
Dub
21
Dio's World, Part 1
0
4
3
No
No
Blue-Ray
Dub
22
Dio's World, Part 2
4
5
3
No
No
Blue-Ray
Dub
23
Dio's World, Part 3
0
5
3
No
No
Blue-Ray
Dub
24
Long Journey Farewell, My Friends
0
5
3
No
No
Blue-Ray
Dub