Here's a bit about the Anime!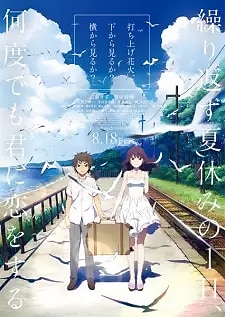 The Anime Fireworks aired in 2017. It has a score of 6.08 on MyAnimeList and a MAL rating of PG-13 – Teens 13 or older.
A quick synopsis of the story:
It's summer, and Norimichi Shimada and his friends want to know if fireworks look round or flat from the side. They forge a plan to find the answer at Moshimo Festival's fireworks display. However, Norimichi finds himself conflicted when his classmate, Nazuna Oikawa, plans to run away from home and wants Norimichi to join her. When things go awry in their attempt to escape, a strange orb in Nazuna's possession gives them another chance at staying together. [Written by MAL Rewrite]
This information comes courtesy of MyAnimeList and is owned by them. Check out their site for more details!
Click HERE to see where to stream it!
Review Details
Here we show you all the details we captured during our review of this Anime.
Anime
Nudity/
Fanservice
Gore/
Violence
Language
Disturbing
Imagery
Substance
Use
Version
Watched
Sub
Or
Dub
Fireworks
1
0
3
No
Yes
Gkids
Sub