Here's a bit about the Anime!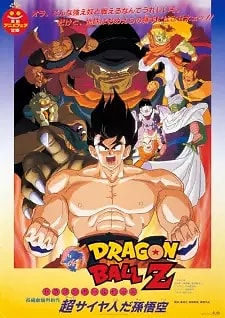 The Anime Dragon Ball Z: Lord Slug aired in 1991. It has a score of 6.56 on MyAnimeList and a MAL rating of PG-13 – Teens 13 or older.
A quick synopsis of the story:
Gohan Son and Piccolo are peacefully playing when they sense a powerful entity approaching Earth. It soon reaches everyone's ears that this entity is in fact a small planet on a deadly collision course with Earth. Gokuu Son and Kuririn attempt to change the small planet's path with a Kamehameha, but the attack fails and the two warriors are blown away. However, after coming very close to Earth's surface, the object changes direction on its own and explodes soon after. The small planet reveals itself to be a vehicle for what seems to be a castle. A large army emerges out of the structure and declares that the planet is now in possession of Slug, king of the universe. While defending the city against the invaders' attack, Gohan loses his Dragon Ball, allowing Slug to take it. After reading Bulma's mind and stealing her Dragon Radar, Slug commands his army to collect the wish-granting relics. With the Dragon Balls in his possession, he uses them to wish his youth back. Now young, wise, and very powerful, Slug commences world domination. [Written by MAL Rewrite]
This information comes courtesy of MyAnimeList and is owned by them. Check out their site for more details!
Click HERE to see where to stream it!
Review Details
Here we show you all the details we captured during our review of this Anime.
Anime
Nudity/
Fanservice
Gore/
Violence
Language
Disturbing
Imagery
Substance
Use
Version
Watched
Sub
Or
Dub
Dragon Ball Z: Lord Slug
1
4
0
No
No
Funimation
Dub
A character sos reading a girly magazine nothing too explicit shown. Lots of fighting and death. A character had a hole punched through him and blood flies everywhere.