Here's a bit about the Anime!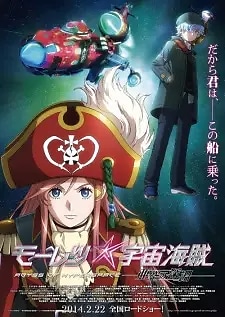 The Anime Bodacious Space Pirates the Movie: Abyss of Hyperspace aired in 2014. It has a score of 7.11 on MyAnimeList and a MAL rating of PG-13 – Teens 13 or older.
A quick synopsis of the story:
Marika Katou, a third year student at Hakuho Girls' Academy, is a legitimate space pirate with a Letter of Marque. Between her studies, leading her school's space yacht club, working part time at Cafe Lamp, and being the captain of the space pirate ship Bentenmaru, Marika's days are very busy. One day, Marika gets a job to rob a high-class passenger ship, and she discovers that on the passenger list is Kanata Mugen, a boy who owns a "galaxy pass". Thus, an adventure featuring a hyperspace race between pirates and one young boy begins. (Source: ANN)
This information comes courtesy of MyAnimeList and is owned by them. Check out their site for more details!
Click HERE to see where to stream it!
Review Details
Here we show you all the details we captured during our review of this Anime.
Anime
Nudity/
Fanservice
Gore/
Violence
Language
Disturbing
Imagery
Substance
Use
Version
Watched
Sub
Or
Dub
Bodacious Space Pirates the Movie: Abyss of Hyperspace
1
0
0
No
Yes
Blue-Ray
Dub